Events
Student Outing
Attention Trainees!
It's time to register for the 2016 Mentor/Mentee Event at the STP Annual Meeting in San Diego, CA.
This year, STP will be teaming up with R & D Events (America's #1 rated Scavenger Hunt: http://rndevents.com/mission-scavenger-hunt) to engage in some friendly competition as we divide and conquer to compete in a Snapshot Photo Challenge in Seaport Village, just behind the Manchester Grand Hyatt. Teams will be comprised of registered trainees and their assigned mentors, and lunch will be provided at a "meet and greet" just before the challenge begins. Each team will be given a digital camera to complete as many challenges as they can before time runs out. The event will take place during our free afternoon from 12-4pm on Tuesday, June 28th. To register, please email the Student Interactions Coordinator at stp@toxpath.org with the subject line: "Student Outing" by Friday, May 20th. We look forward to seeing you there!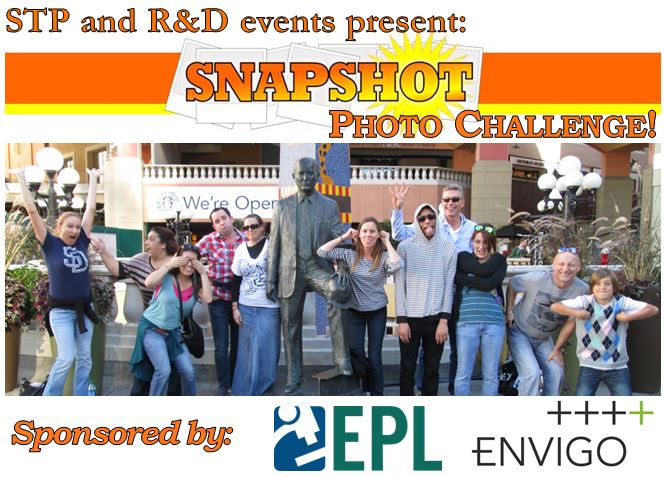 ---
Student/Mentor Mixer
SAVE THE DATE: the STP Student/Mentor Mixer will be held on Sunday, June 26, 2016, from 7:00pm – 8:30pm (immediately following the Welcome Reception) during the STP Annual Meeting in San Diego, CA. As usual, we will have a renowned and diverse consortium of mentors from a diverse background spanning industry, government, and academia. There will be a free raffle for valuable pathology textbooks signed by the authors and editors in attendance. Light hors d'oeuvres and refreshments will also be provided. This is a one-of-a-kind opportunity for veterinary and graduate students, residents, and post-docs to meet and mingle with mentors and trainees, and learn about the interesting and rewarding world of toxicologic pathology. Please save the date and make sure to RSVP through registration. Direct any questions you might have to the SI coordinator. We look forward to seeing you there!